CCRI Board of Directors & Advisory Committee
Danielle Citron, J.D.
Secretary, Vice President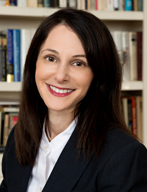 Danielle Keats Citron is the Morton & Sophia Macht Professor of Law at the University of Maryland Francis King Carey School of Law where she teaches and writes about information privacy, free expression, and civil rights. She was a recipient of the 2018 UMB Champion of Excellence Award and the 2005 "Teacher of the Year" award.
Professor Citron is an internationally recognized information privacy expert. Her book Hate Crimes in Cyberspace (Harvard University Press) explored the civil rights and civil liberties implications of cyber stalking. The editors of Cosmopolitan included her book in "20 Best Moments for Women in 2014." Professor Citron has published more than 25 law review articles appearing or forthcoming in Yale Law Journal, California Law Review (twice), Michigan Law Review (twice), Harvard Law Review Forum, Boston University Law Review (three times), Notre Dame Law Review (twice), Fordham Law Review, George Washington Law Review, Minnesota Law Review, Texas Law Review, Washington University Law Review (twice), Southern California Law Review, Washington & Lee Law Review, Wake Forest Law Review, Washington Law Review (twice), UC Davis Law Review, among other journals. Her current scholarly project concerns sexual privacy as well as deep fakes and the challenges to privacy, democracy, and national security.
Professor Citron's opinion pieces have appeared in media outlets, such as The New York Times, The Atlantic, Slate, Lawfare, Time, CNN, The Guardian, New Scientist, ars technica, and New York Daily News. In 2015, the United Kingdom's Prospect Magazine named Professor Citron one of the "Top 50 World Thinkers;" the Daily Record named her one of the "Top 50 Most Influential Marylanders."
Professor Citron is an Affiliate Scholar at the Stanford Center on Internet and Society, Affiliate Fellow at the Yale Information Society Project, Senior Fellow at the Future of Privacy, and a Tech Fellow at NYU's Policing Project. She is a member of the American Law Institute and serves as an adviser to the American Law Institute's Restatement Third Information Privacy Principles Project. Professor Citron was a Visiting Professor at Fordham University School of Law in the fall of 2018 and will be a Visiting Professor at Harvard Law School in the fall of 2019.
Professor Citron has advised federal and state legislators, law enforcement, and international lawmakers on privacy issues. She has testified at congressional briefings on the First Amendment implications of laws regulating cyber stalking, sexual violence, and nonconsensual pornography. From 2014 to December 2016, Professor Citron advised California Attorney General Kamala Harris (elected to the U.S. Senate in 2016) on privacy issues. She served as a member of AG Harris's Task Force to Combat Cyber Exploitation and Violence Against Women. In 2011, Professor Citron testified about online hate speech before the Inter-Parliamentary Committee on Anti-Semitism at the House of Commons.
Professor Citron works closely with tech companies on issues involving online safety and privacy. She serves on Twitter's Trust and Safety Council and is a member of Facebook's Nonconsensual Intimate Imagery Working Group. She has presented her research at Twitter, Facebook, Google, and Microsoft. She is a member of the Principals Group for the Harvard-MIT AI Fund. In addition, Professor Citron serves as an advisor to civil liberties and privacy organizations. She is the Chair of the Electronic Privacy Information Center's Board of Directors and member of the Board of the Cyber Civil Rights Initiative. Professor Citron sits on the Advisory Boards of Without My Consent, the ADL's Center for Technology and Society, Future of Privacy, Teach Privacy, and the International Association of Privacy Professionals Privacy Bar.
Professor Citron has presented her research at federal agencies, meetings of the National Association of Attorneys General, the National Holocaust Museum, Wikimedia Foundation, the Anti-Defamation League, major universities, and think tanks. She appeared in HBO's Swiped: Hooking Up in the Digital Age (directed by Nancy Jo Sales) and Netizens (which premiered at the 2018 Tribeca Film Festival, directed by Cynthia Lowen). Professor Citron has been interviewed in hundreds of news stories including in The New York Times, Washington Post, Wall Street Journal, Los Angeles Times, San Francisco Chronicle, Wired,USA Today, HBO's John Oliver Show, HBO's Vice News, Time, Newsweek, New Yorker, New York Magazine, Cosmopolitan, Barron's, Financial Times, The Guardian, Vice News, and BBC. She is a frequent guest on National Public Radio shows, including All Things Considered, WHYY's Radio Times, WNYC's Public Radio International, Minnesota Public Radio, Wisconsin Public Radio, WYPR's Midday with Dan Rodricks, WAMU's The Diane Rehm Show, and Chicago Public Radio.
Mary Anne Franks, J.D., D.Phil
President, Legislative & Tech Policy Director 
Mary Anne Franks, J.D., D.Phil., is a professor of law at the University of Miami School of Law, where she teaches First Amendment law, criminal law and procedure, law and technology, and family law. Professor Franks authored the first model criminal statute on nonconsensual pornography and helped draft the federal Intimate Privacy Protection Act (IPPA), introduced in Congress in July 2016. Prof. Franks's model state statute is available here and her model federal statute is available here.
Professor Franks is the author of the forthcoming book The Cult of the Constitution: Guns, Speech, and the Internet (Stanford University Press 2018). Her scholarly and popular press articles have appeared in publications such as the Harvard Law Review, the California Law Review, the Atlantic, and the Huffington Post. She is the reporter for the Uniform Law Commission's Committee (ULC) on the Unauthorized Disclosure of Intimate Images and has advised both state and federal legislators on laws relating to sexual privacy, extortion, harassment, and threats. She also works with tech industry leaders, including Google, Facebook, Twitter, and Microsoft, on privacy and abuse issues. Professor Franks holds a J.D. from Harvard Law School as well as doctorate and master's degrees from Oxford University, where she studied as a Rhodes Scholar. Before she began teaching at UM, Professor Franks was a Bigelow Fellow and Lecturer in Law at the University of Chicago Law School and taught social studies and philosophy at Harvard University.
Professor Franks' CV can be viewed here. Please contact Professor Franks if you are a legislator interested in drafting a bill in your jurisdiction.
Holly Jacobs, Ph.D.
Founder, Board Member
Dr. Holly Jacobs is the Founder, President, and Executive Director of Cyber Civil Rights Initiative (CCRI).  She has a BA from Boston College in Psychology, and an MS and PhD in Industrial/Organizational Psychology from Florida International University.  While obtaining her PhD, Dr. Jacobs served as a statistical consultant for three and a half years, advising clients on the set-up, analysis, interpretation, and presentation of their research.  Her dissertation assessed the effects that job features and personal characteristics have on work engagement through the psychological conditions of meaningfulness, safety, and availability.
While pursuing her graduate degrees, Dr. Jacobs became a victim of revenge porn when explicit photos and a video of her were distributed all over the Internet.  After several failed attempts to receive help from law enforcement, and discovering that there were very little resources for victims like herself, she launched the End Revenge Porn (ERP) campaign in August 2012. Through ERP, she and her colleagues provided support to thousands of other victims like herself, brought global attention to this issue, and advocated for legislation that would criminalize this behavior.  A year after ERP's launch, Dr. Jacobs started its parent organization CCRI, whose mission is to provide resources and advocacy for victims of online harassment.
Dr. Jacobs has written articles about her experience as a victim and work as an advocate. She has also been interviewed on the Today Show, Katie Couric, Fox News, CNN, Al Jazeera, NPR, BBC, and appeared in The New York Times, The New York Observer, The Wall Street Journal, Huffington Post, The Verge, New York Magazine, the Sydney Morning Herald, Glamour, Cosmopolitan, and Grazia magazine. In 2018, Dr. Jacobs was selected as one of ten 2018 Women of Worth by L'Oréal Paris.
Jason Walta, J.D.
Treasurer
Jason Walta, J.D. is Senior Counsel at the National Education Association in Washington D.C., where he specializes in constitutional litigation, civil rights, and nonprofit law. Earlier in his career, Jason was an appellate lawyer for the federal government, an adjunct law professor, an associate in a boutique law firm, and a law clerk for two federal judges. He received his undergraduate degree in Sociology from Wesleyan University in 1995 and his law degree from Northeastern University School of Law in 1999. You can view Jason's CV here.
Advisory Committee
Carrie Goldberg, J.D.
Ms. Carrie Goldberg is the founding attorney at C. A. Goldberg, PLLC located in Brooklyn, New York.  Carrie litigates for victims in cases involving Internet privacy, sexual assault, and elder abuse in state and federal courts.
Carrie authored a guide for law enforcers applying new revenge porn statutes for CCRI, created a curriculum for training school administrators on sexting, and co-authored a guide for judges on guardianship.  She has provided extensive pro bono services to CCRI and its consumers.  She has lectured about exploitation, revenge porn and guardianship at the New York City Bar Association, Vassar College, Cardozo Law School,CUNY School of Law, and for the NYS Office of Court Administration.  Carrie blogs about privacy, the law and sexual victimization and has been interviewed and/or featured in articles and broadcasts, including for the BBC, The Atlantic's The Wire, Cosmo, HuffPost Live, Fox411.
Carrie's firm litigates as of counsel for The Vera Institute of Justice.  She also represents individual victims of revenge porn, unauthorized sex tapes, child pornography, Title IX discrimination, DV, and sexual assault.  She can be contacted here.