CCRI Board of Directors & Advisory Committee
Holly Jacobs, Ph.D.
Founder, Director
Dr. Holly Jacobs is the Founder, President, and Executive Director of Cyber Civil Rights Initiative (CCRI).  She has a BA from Boston College in Psychology, and an MS and PhD in Industrial/Organizational Psychology from Florida International University.  While obtaining her PhD, Dr. Jacobs served as a statistical consultant for three and a half years, advising clients on the set-up, analysis, interpretation, and presentation of their research.  Her dissertation assessed the effects that job features and personal characteristics have on work engagement through the psychological conditions of meaningfulness, safety, and availability.
While pursuing her graduate degrees, Dr. Jacobs became a victim of revenge porn when explicit photos and a video of her were distributed all over the Internet.  After several failed attempts to receive help from law enforcement, and discovering that there were very little resources for victims like herself, she launched the End Revenge Porn (ERP) campaign in August 2012. Through ERP, she and her colleagues provided support to thousands of other victims like herself, brought global attention to this issue, and advocated for legislation that would criminalize this behavior.  A year after ERP's launch, Dr. Jacobs started its parent organization CCRI, whose mission is to provide resources and advocacy for victims of online harassment.
Dr. Jacobs has written articles about her experience as a victim and work as an advocate. She has also been interviewed on the Today Show, Katie Couric, Fox News, CNN, Al Jazeera, NPR, BBC, and appeared in The New York Times, The New York Observer, The Wall Street Journal, Huffington Post, The Verge, New York Magazine, the Sydney Morning Herald, Glamour, Cosmopolitan, and Grazia magazine. In 2018, Dr. Jacobs was selected as one of ten 2018 Women of Worth by L'Oréal Paris.
Mary Anne Franks, J.D., D.Phil
President, Legislative & Tech Policy Director 
Dr. Mary Anne Franks is a Professor of Law at the University of Miami School of Law, where she teaches criminal law & procedure, First Amendment law, family law, and Law, Policy, and Technology. Before joining the UM faculty, Dr. Franks was a Bigelow Fellow and Lecturer in Law at the University of Chicago School of Law and a Lecturer in Social Studies at Harvard University. Dr. Franks received her J.D. in 2007 from Harvard Law School and her D.Phil (2004) and M.Phil (2001) from Oxford University, where she studied on a Rhodes Scholarship.
Professor Franks is the author of the first model criminal statute on "revenge porn," the unauthorized disclosure of private, sexually explicit images. Professor Franks helped draft the federal Intimate Privacy Protection Act, which introduced in Congress in July 2016 and re-introduced as the ENOUGH Act in November 2017. She is the reporter for the Uniform Law Commission's Committee on the Unauthorized Disclosure of Intimate Images and has advised both state and federal legislators in drafting legislation relating to online privacy violations, extortion, harassment, and threats. She also works with tech industry leaders, including Google, Facebook, Twitter, and Microsoft, on privacy and abuse issues.
Professor Franks is the author of The Cult of the Constitution: Guns, Speech, and the Internet (Stanford University Press, forthcoming 2018). Her legal scholarship has appeared in publications such as the Harvard Law Review, the California Law Review, and the UCLA Law Review.  Much of her scholarly work focuses on discrimination and free speech, including Censoring Women (2015), Unwilling Avatars: Idealism and Discrimination in Cyberspace (2012), Sexual Harassment 2.0 (2012), When Bad Speech Does Good (2012), and The Banality of Cyber Discrimination, or, the Eternal Recurrence of September (2010). She has also authored numerous articles for the popular press, including Why Hulk vs. Gawker is not About Privacy vs. Free Speech,  How to Defeat Revenge Porn, and Free Speech Elitism: Harassment is not the Price 'We' Pay for Free Speech in publications such as the Atlantic, the Guardian, TIME Magazine, and the Huffington Post.
Prof. Franks's model state statute on non-consensual pornography is available here and her model federal statute is available here. Please contact Prof. Franks if you are a legislator interested in drafting a bill in your jurisdiction.  Prof. Franks' CV can be viewed here.
Danielle Citron, J.D.
Secretary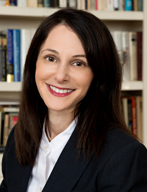 Professor Danielle Citron is the Lois K. Macht Research Professor & Professor of Law at the University of Maryland Francis King Carey School of Law, Affiliate Scholar at the Stanford Center on Internet & Society, and Affiliate Fellow at the Yale Information Society Project. Professor Citron is a permanent blogger at Concurring Opinions. Her work focuses on information privacy, civil rights, and administrative law. Her book Hate 3.0: A Civil Rights Agenda to Combat Discriminatory Online Harassment is forthcoming in Harvard University Press. Her book chapter "Civil Rights in the Information Age" appeared in The Offensive Internet: Speech, Privacy, and Reputation (Harvard University Press 2010). She published "Law's Expressive Value in Combating Cyber Gender Harassment" in the Michigan Law Review in December 2009 and "Cyber Civil Rights" in the Boston University Law Review in February 2009.
In October 2011, Prof. Citron testified about online gender harassment at the House of Commons before the Inter-Parliamentary Coalition for Combatting Anti-Semitism Task Force on Internet Hate, of which she is a task force member. She has presented her work on online harassment at the National Network to End Domestic Violence, the U.S. Holocaust Museum, the Anti-Defamation League, and the International Network Against Cyber Hate, as well as at numerous universities, including Columbia, Harvard, Yale, Stanford, University of Chicago, New York University, Berkeley, University of Michigan, Fordham, and Emory. In December 2009, the Denver University Law Review devoted a conference to her work on cyber harassment entitled Cyber Civil Rights: New Challenges to Civil Rights and Civil Liberties in the Information Age.
Prof. Citron has spoken to dozens of media outlets about online harassment, including the New York Times, Wall Street Journal, NPR, ABC, New York Observer, Gawker, Glamour, Self, Marie Claire, Slate, and Salon. She and Professor Franks advised Maryland Delegate Jon Cardin in drafting a revenge porn bill. The bill classifies the publication of someone's sexually explicit images without consent as a felony. If you would like to speak with Professor Citron, please contact her via email. View Prof. Citron's CV here.
Jason Walta, J.D.
Treasurer
Jason Walta, J.D. is Senior Counsel at the National Education Association in Washington D.C., where he specializes in constitutional litigation, civil rights, and nonprofit law. Earlier in his career, Jason was an appellate lawyer for the federal government, an adjunct law professor, an associate in a boutique law firm, and a law clerk for two federal judges. He received his undergraduate degree in Sociology from Wesleyan University in 1995 and his law degree from Northeastern University School of Law in 1999. You can view Jason's CV here.
Advisory Committee
Carrie Goldberg, J.D.
Ms. Carrie Goldberg is the founding attorney at C. A. Goldberg, PLLC located in Brooklyn, New York.  Carrie litigates for victims in cases involving Internet privacy, sexual assault, and elder abuse in state and federal courts.
Carrie authored a guide for law enforcers applying new revenge porn statutes for CCRI, created a curriculum for training school administrators on sexting, and co-authored a guide for judges on guardianship.  She has provided extensive pro bono services to CCRI and its consumers.  She has lectured about exploitation, revenge porn and guardianship at the New York City Bar Association, Vassar College, Cardozo Law School,CUNY School of Law, and for the NYS Office of Court Administration.  Carrie blogs about privacy, the law and sexual victimization and has been interviewed and/or featured in articles and broadcasts, including for the BBC, The Atlantic's The Wire, Cosmo, HuffPost Live, Fox411.
Carrie's firm litigates as of counsel for The Vera Institute of Justice.  She also represents individual victims of revenge porn, unauthorized sex tapes, child pornography, Title IX discrimination, DV, and sexual assault.  She can be contacted here.